30 Jul

Moissanite & Other Alternatives to Diamonds

The breathtaking brilliance and superior durability, along with unlimited design potential, of diamonds have made them a precious center stone. At a ten on the Mohs Hardness Scale, diamonds are the hardest, most durable gemstone. At Cornelis Hollander, our partnerships allow us to provide exceptional quality, conflict-free diamonds. In addition to diamonds, there are many equally stunning gemstones, including moissanite, for creating gorgeous engagement rings and other fine jewelry pieces.
Moissanite
According to the American Gem Society, moissanite was first discovered in 1983 at a meteorite crater in Northern Arizona by a Nobel Prize-winning chemist named Dr. Henri Moissan, for whom it is named after. Dr. Moissan initially believed his finding was a diamond; however, it was later determined to be silicon carbide.
It is so exceptionally rare that most moissanite produced for engagement rings and fine jewelry is done so during a lengthy, complex laboratory process, meaning there is no mining required. That makes it an environmentally friendly center stone.
Moissanites rival many other gemstone types in terms of price while still registering a 9.5 on the Mohs Scale of Hardness, making it an ideal option for daily wear. Budget-conscious consumers may also want to consider this stone. The reflective properties of moissanite produce more, although a distinct type, of brilliance than diamonds.
Cubic Zirconia
According to the Gemological Institute of America (GIA), synthetic cubic zirconia or CZ is a crystal form of zirconium oxide introduced in the 1970s. At 8.5 on the Mohs Hardness Scale, the gem sacrifices some of the hardness and durability found in diamonds for a significant cost reduction, making it an attractive option that fits within most budgets.
Its ability to approximate the look of diamonds – differences between the two stones are virtually indistinguishable when viewed by the unaided eye – makes it a popular choice for engagement rings.
Like other gemstones, cubic zirconia can be custom-designed and cut into various shapes to reflect your significant other's style preferences. Many people will appreciate the peace of mind that comes from knowing that the stone set in their engagement ring, necklace, earrings, or other jewelry piece is "conflict-free."
Sapphire
The enchanting hue of sapphire has held hearts captive for centuries. It is recognized as the birthstone for September and is the modern, traditional, and gemstone gift of the 45th wedding anniversary. The intense blue color of sapphire makes it a gorgeous gemstone to consider when designing custom jewelry.
At nine on the Mohs Hardness Scale, sapphire is the second hardest stone under diamonds, which are at ten. That makes it an excellent option for daily wear. Additionally, this gem can be set in an engagement ring as either the center or accent stone.
In addition to blue, the gem is available in many different colors, called fancy colors. These include violet, green, yellow, orange, pink, and purple. According to GIA, some can even change colors, most often going from blue in fluorescent lighting to purple under incandescent light to make an incredible conversation piece.
Ruby
A precious stone that shares the mineral corundum with sapphire, trace elements of chromium provide rubies with an intense, pure red color. According to GIA, "gemologists consider it [chromium], the "rock star" of trace elements. Rubies are the birthstone for July and the modern, traditional, and gemstone gift of the 40th anniversary.
The gemstone's intense red glow, durability, and rarity make them a highly coveted choice for many variations of custom jewelry. The most substantial and transparent rubies are considered rarer than diamonds.
Like sapphire, rubies are at a nine on Mohs Hardness Scale; therefore, you can be assured that they are rugged and durable. As a result, it can be the centerpiece in all types of fine jewelry, from rings and bracelets to earrings and necklaces for a stunning statement piece. Rubies can also be used as accent stones to complement other gemstones.
Get started designing a personalized masterpiece with Cornelis Hollander's world-renowned designer by phone, email, or in-personal at our Old Town Scottsdale jewelry store. Our custom designs are available for both Valley residents and for those who live out of state. We invite you to schedule a consultation today at (480) 423-5000.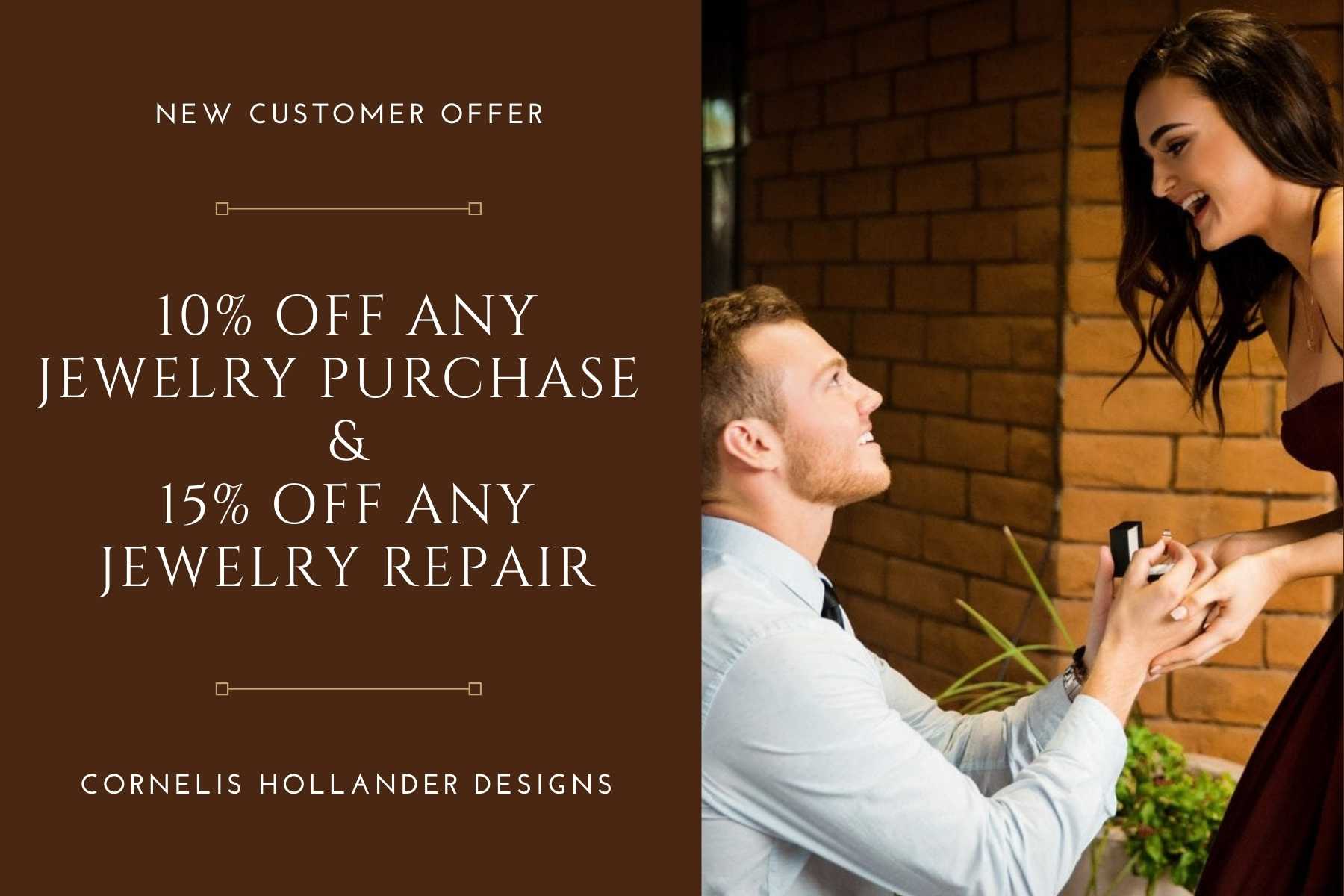 Resources:
"7 Amazing Facts about Moissanite." Moissanite International.
"An Introduction to Simulants or Imitation Gem Materials." Gemological Institute of America.
"Moissanite." American Gem Society.
"Moissanite History." American Gem Society.
"Ruby." Gemological Institute of America.
"Sapphire." Gemological Institute of America.