09 Aug

How to Choose an Engagement Ring Setting

Selecting an engagement ring setting should be the first thing you do – even before choosing the stone; it's that important. Here are four of the most popular settings for engagement rings.

                                                                    Prong Setting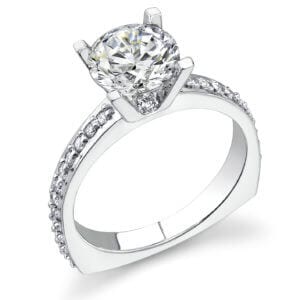 This setting compliments solitaire diamonds very nicely. In this setting, four to six metal prongs grip the center stone, securely fastening it in place. Prongs can be button shaped, clawed or V shaped. Minimal metal use lends itself to a diamond that looks much larger than it actually is. It also affords the diamond more light – enhancing its brilliance. Most any diamond cut can be secured in a prong setting.
Pavé Setting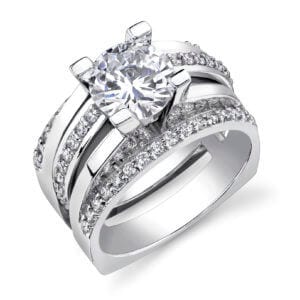 The pavé setting, pronounced "pa-vay," is encrusted with very small diamonds. We're talking stones that are on average 0.1 to 0.2 carats. These stones can either go around the whole band (full pave) or stop halfway around it (half pave). The diamonds are held in place by either beads or prongs. Round brilliant or princess cut diamonds are both good choices for center stones in a pavé setting.
                                                                    Tension Setting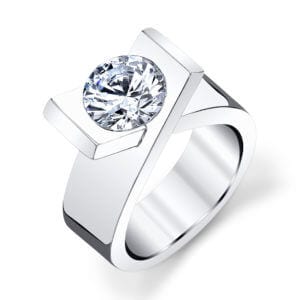 In a tension setting, there is an opening in which the diamond or other gemstone is placed, securely held there by the pressure exerted from the open ends of the ring. Because no additional metal is used, this setting is also known as an invisible setting. One of the greatest advantages to a tension setting is that it shows off the whole diamond. Round and emerald-cut diamonds are popular choices for this type of setting.
Halo Setting
The halo setting features a center gemstone surrounded by smaller, micro pavé diamonds, which make the center stone appear larger. This can allow you to go with a smaller carat weight without sacrificing the overall appearance of the ring. Halos are often paired with a pavé band. Double halo settings are also available. Round, oval, asscher, and pear-shaped diamonds work.
Selecting the Perfect Setting
Prong, pavé, tension, halo: These are just some of the options available for engagement ring settings. When choosing between various settings, it's important to consider your partner's personal preferences as well their lifestyle, as some settings may be a better fit than others.
For example: If your soon to be fiancé is the athletic type, a pavé or halo setting might be right since they encircle the diamond, securing it in place. You should also consider the wedding band in your decision-making process.
Meet with a Cornelis Hollander Designer to create an engagement ring as unique as the love you and your significant other share. Our world-renowned engagement rings are flawlessly engineered with bold, beautiful, and sharp lines that are sure to carve out a timeless love story. Schedule a consultation today!