19 Aug

Conflict-Free Diamond Engagement Rings

If you are looking to surprise your significant other with a diamond engagement ring that will last a lifetime, not to mention one that does not promote conflict, look no further than the Cornelis Hollander jewelry store.

The Cornelis Hollander jewelry store in Scottsdale is committed to using only the highest-quality, conflict-free gemstones and precious metals to create stunning, distinctive engagement rings that capture your relationship's unique love story.
What are Conflict-Free Diamonds?
Conflict-free diamond engagement rings feature gemstones that are regulated by the Kimberly Process (KP). This international initiative promotes transparency in the diamond industry to eliminate the destructive trade of conflict diamonds. These stones may also be referred to as ethically sourced.
According to the Kimberly Process, today, 99.8% of diamonds are conflict-free.
In addition, having a jewelry store transform heirloom pieces to create a more personalized, custom design is another excellent method for avoiding conflict-free diamonds. Cornelis Hollander also offers many other gemstone options, like moissanite, that conscientious couples may want to consider when designing a custom engagement ring.
Beautifully Set Engagement Rings
Adelen
Designed uniquely for the wearer, the Adelen engagement ring evokes an era of glamour and decadence, featuring the bold geometry of Art Deco design. The round brilliant cut center stone provides the illusion that it is floating about a well of pave-set diamonds when it is securely held central by a channel setting. This style, which can accommodate other gemstone cuts and shapes, lends an air of weightlessness to the center stone, providing it with the showcase position it deserves.
Drakenpoort
The Drakenpoort engagement ring features a new take on the historic signet-style rings that were once used to denote membership or seal official documents. This setting has a classic M-like shape that holds the center stone in a channel setting at its tip. It can be custom designed as either a solitaire or with its band encrusted in diamonds to make a stunning statement piece that your significant other will undoubtedly treasure. The Drakenpoort symbolizes an archway to shared destiny.
Emotie
The Emotie engagement ring is designed to add emotional resonance to the already tear-dropping pear shape. The pear-shaped center stone is encapsulated in a bezel setting, with a halo of diamonds circling it, along with running down each side of the band. A matching wedding band can further complement it with a pear-shaped gemstone pointing towards the wearer's heart. This is a ring that symbolizes the profound experience of walking through life together.
Get started designing a personalized masterpiece with Cornelis Hollander's world-renowned designer by phone, email, or in-person at our Old Town jewelry store. Our custom designs are available for purchase by Arizonans and residents of other states. We invite you to schedule a consultation to discuss your significant other's unique lifestyle and design preferences today at (480) 432-5000.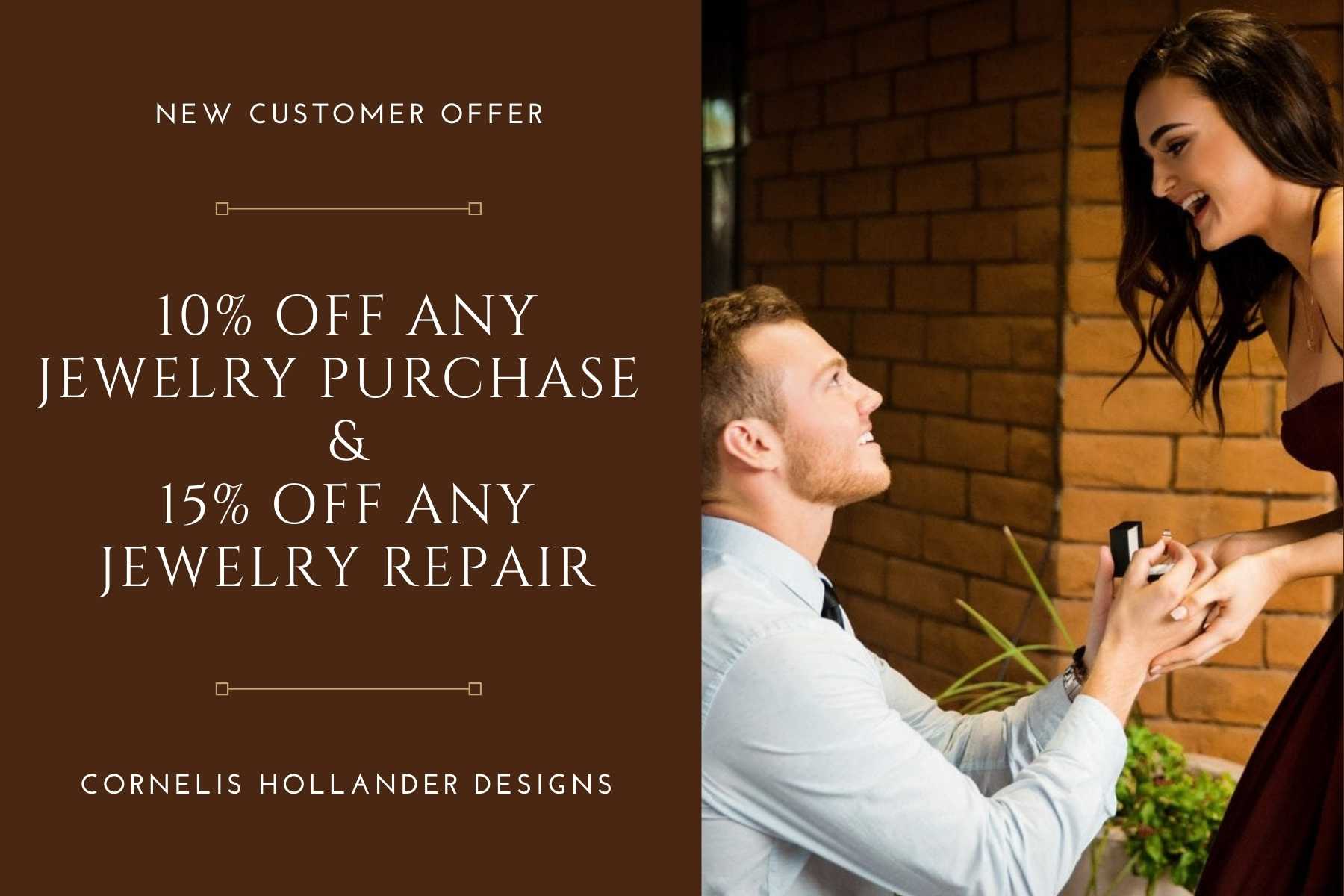 * Offer valid for new customers who make a jewelry purchase before Saturday, September 4, 2021. It can be shared with friends and family. Limited to one coupon per person and must be presented before purchase at Cornelis Hollander's jewelry store. No cash or other redemption value. Offer cannot be combined with any other discounts or promotions, nor may it be used for previous purchases. Other restrictions may apply.
Resources:
"What is the Kimberly Process?" Kimberly Process.