17 Dec

Romantic Ideas for a Holiday Proposal

'Tis the most joyous time of year, made even more festive by family gatherings, cheerful events, and twinkling lights. The magic of the holiday season also extends to presenting your significant other with a stunning diamond engagement ring. According to The Knot, engagement season runs from November through February, with December 24 and 25 the most popular days to secure a resounding "yes" from your significant other. In addition, the Knot adds New Year's Day to the list of popular engagement dates.

Here are some ideas for proposing during the holidays with engagement ring suggestions.
Neatly Wrapped Under the Tree
If you are ready to take the next step in your relationship this gift-giving season, consider the captivating DRIE diamond engagement ring, neatly wrapped under the tree for your significant other to unwrap. A fresh design on a classic look, this ring features a princess cut diamond snuggled between four solid, straight prongs with two diamonds on each side and three rows of bead-set diamonds that run down the band. Like all Cornelis Hollander designs, other gemstone cuts can be used for a personalized masterpiece. This design is a potent symbol of the new life brought forth by a couple's union.
While Watching a Classic Holiday Movie
As Valley temperatures continue to drop, there is no better way to stay warm than to cozy up with your loved one on the couch with a steaming cup of hot chocolate and a bowl of warm buttery popcorn and stream a popular classic or modern holiday film. As the movie plays, uncover the stunningly beautiful EEN ring, featuring a round brilliant center stone held by four prongs with two accent diamonds on either side and a row of bead-set diamonds shimmering down the band to demonstrate the singular power of your love – strong and enduring, yet infused with ageless romance. 
A New Year's Kiss Sealed with a Diamond Engagement Ring
Ring in the New Year with not only a kiss but a tangible promise of your commitment by surprising your significant other with the elegant OVAAL ring at midnight on New Year's Eve. A statement-making take on the split shank setting, this engagement ring features a princess cut diamond held by a thick channel that protects weak points while revealing the center stone from every angle, enhancing its beauty. The center band synergizes the individual elements, allowing the complete piece to gracefully rest upon your partner's ring finger, forming the centerpiece to your new life.
Enhance the season's magic with a diamond engagement ring from world-renowned jewelry designer – Cornelis Hollander – flawlessly designed to reflect the significance of the love you share with your significant other. Get started today by scheduling a consultation with Cornelis Hollander. If you are a new customer, enjoy 10% off any jewelry purchase and 15% off any jewelry repair between now and New Year's Eve.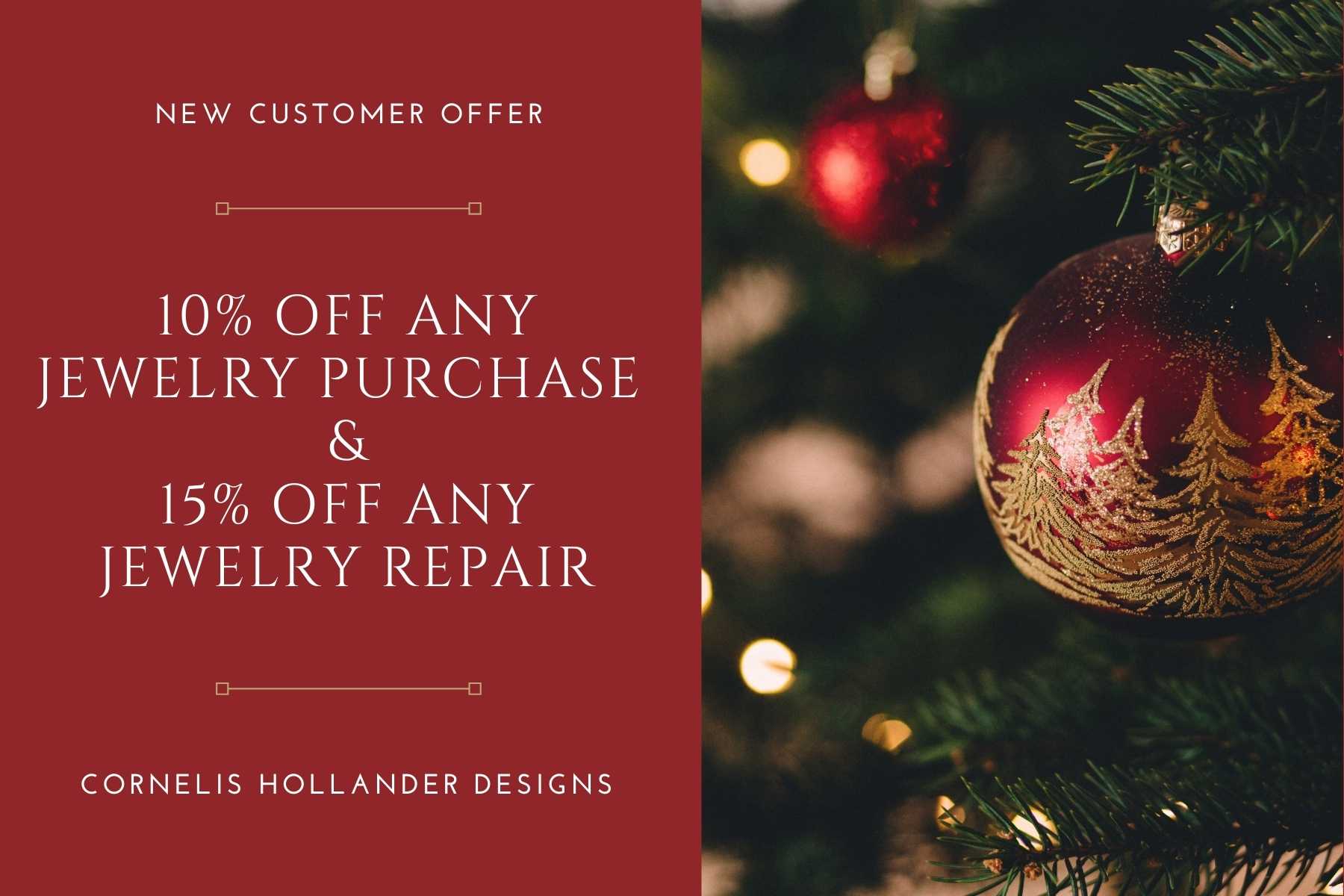 *Offer valid for new customers who make a jewelry purchase or repair on or before Friday, December 31, 2021. While this offer can be shared with family or friends, it is limited to one person and cannot be combined with any other discounts or promotions, nor may it be used for previous purchases. In addition, it does not have any cash or additional redemption value and must be presented before purchase. Other restrictions may apply. Don't hesitate to contact Cornelis Hollander for more information at (480) 423-5000.
Resources:
Forrest, Kim. "The Most Popular Days to Get Engaged in 2020 Are Unlike Any Other Year." Wedding Wire, March 5, 2021.
Hanlon, Sarah. "This Was the Most Popular Day to Get Engaged Last Year." The Knot, June 14, 2020.
Nowack, Hannah. "16 Christmas Proposal Ideas No One Will Be Able to Resist." The Knot, September 30, 2021.