29 May

Diamond Ring Design for the Classic Bride

If your significant other loves timeless jewelry, then you are sure to capture her heart with pavé , solitaire, or three-stone diamond ring design, crafted by Cornelis Hollander.
Pavé Diamond Rings
A pavé ring features tiny diamonds, also known as melees, that are uniform in size and set together on the band. The gemstones help enhance the ring's sparkle factor A pavé diamond ring design is an excellent option for budget-conscious consumers as its stunning line of diamonds can give more weight to a half-carat, or smaller, center stone. Setting options include micro, French, and petite. Consult a jewelry designer about customizing the ring with your choice of precious metal, diamond cuts, and settings to create a striking piece that your partner is sure to love.
Solitaire Diamond Rings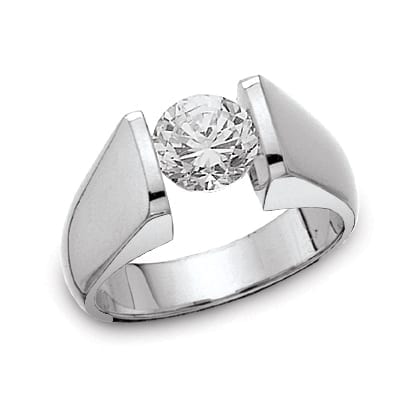 Capture her heart with a single stone centered prominently on the band. Traditionally crafted with brilliant round-cut diamonds, other stone shapes, such as the oval-cut and princess-cut, complement these rings beautifully. When it comes to the band, there are plenty of mountings to choose from. A top choice among classic brides is the cathedral setting, which allows the diamond to be visible from any angle. Alternative options include the bezel and tension settings. The latter of which is shown. Solitaires sparkle in a variety of precious metals, including mixed metals and platinum, as well as gold.
Three-Stone Diamond Ring Design
Representing your "past, present, and future" union, three-stone engagement rings are an excellent option for classic brides. These rings are typically designed with a sizeable center stone, in the cut of your choosing, and flanked by two additional gemstones. The side stones can either match or contrast from the center stone. As with pavé and solitaire diamond ring design, you can choose from a variety of precious metals and settings to make a three-stone diamond ring stand out. You are sure to impress with when you contact a jewelry designer about this design for your significant other.
Leading Jewelry Designer for Over 30 Years
Cornelis Hollander has been in the business of making memories for more than 30 years. Our award-winning designer jewelry is flawlessly engineered with bold, beautiful, and sharp lines that either you or the lucky recipient is sure to treasure forever. All designs are crafted in our local jewelry stores.
Cornelis Hollander is proud to offer the latest in diamond ring design. Each design is crafted to your exact specifications. Often, customers bring their exceptional gemstone or heirloom jewelry in, requesting a more modern designer look. We are happy to consult with our clients to create their dream piece by phone, email, or in our Old Town Scottsdale jewelry store.
Design the perfect piece by speaking with a Cornelis Hollander Jewelry Designer today at (480) 423-5000 or sales@cornelishollander.com. For a limited time only, we are offering new customers 10% off all jewelry purchases and 15% off repair services; contact us for more information. Our current store hours are:
Monday – 11:00 AM to 5:30 PM
Tuesday – Closed
Wednesday – Closed
Thursday – 11:00 AM to 5:30 PM
Friday – 11:00 AM to 5:30 PM
Saturday – 11:00 AM to 4:30 PM
Sunday – Closed
Stay safe and #supportlocal!